Professionnal career
GIA Diploma (Gemological Institute of Amercia)
Diploma GIA Graduate diamond (expert in diamonds)
Diploma GIA Colored stones
GIA Gemologist Diploma (Gemologist)
GIA Jewelry Design Diploma (jewelry technical drawings)
ING degree (National Institute of Gemology)
---
My dream was to see exceptional pieces, all brands, all styles.
That is why in 2004, I worked at the largest company in the world Auction: Christie's Paris in the jewelry department. I continued my career at Christie's in London in the subject department of Virtue (gold, stony), silverware and Russian Art.
Back in France, I worked with the Municipal Credits Pau-Bordeaux and different auction house.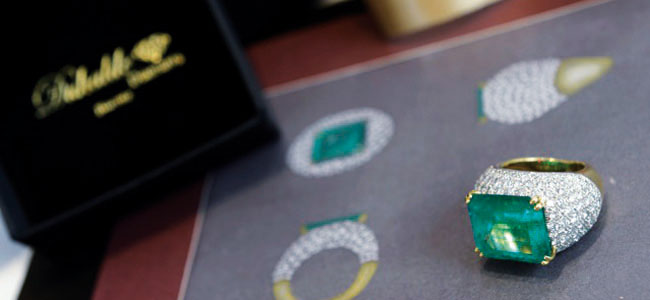 In 2017 we opened a Jewelery, Diamonds Jewelers, 8 Place Clemenceau in Biarritz.
An upscale and friendly jewelry store, a store such a jewelry box with a chic and modern decoration or each jewel can express its beauty, brilliance, brilliance and charm.
Specialized in diamonds, especially solitaires, wedding bands, unmounted diamonds and ornaments, you will also find beautiful Colombian emeralds, Ceylon sapphires, rubies, as well as pearls, frames, large Lalique crystal brands and Daum and so a Ray of Ancient Jewels.
---
End of 2012, we opened Duhalde Diamonds, 16 Place Clemenceau in Biarritz.
High-end jewelery and friendly store like a jewel jewelry decoration with both chic and modern or each piece can express its beauty, brilliance, its luster and charm.
Specializing in diamonds, especially engagement rings, unmounted diamonds and jewels, you will also find beautiful Colombian emeralds, sapphires from Ceylon, rubies, and pearls, antique jewelry, frames and crystal.
---
We select the finest stones to offer you high quality products and excellent quality.
Our philosophy is to provide jewelry not only visually beautiful but haves unique stones, diamonds with colors and above what is usually found in commerce purities.
We do not want to sacrifice quality so that our jewelry are the brightest, most brilliant, most sparkling and the whites.
All our jewels are delivered in their own jewel cases with invoice characteristics (quality, weight, description …), and the majority of our diamonds come with certificates of laboratory rename world (GIA, HRD, IGI, …)
.